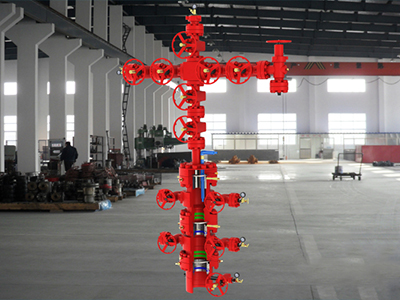 Introduction of tubing head spool by wellhead equipment manufacturer
Tubing head spool
The tubing head 4 is installed on the upper end of the casing head and consists of tubing hanger and its cone seat, which is used to support the tubing string and seal the annular space between the tubing and the production casing.
The upper end of the hanger seat is usually connected with an upper flange and the lower end is connected with a cross. It has upper and lower flanges and two annular outlets
1. Tubing head structure the tubing head is usually a cross with flange connection at the top and bottom. It is installed on the flange on the casing head to hang the tubing string and seal the annular space between the tubing string and the oil casing. It is composed of tubing head cross and tubing hanger.
2. Tubing head function
1) Hang the tubing string in the well.
2) Seal the annular space between tubing and casing.
3) Provide transition connection between casing head and Christmas tree.
4) The two side ports on the tubing head spool can be used for water injection and well flushing.
3. Tubing hanger
Tubing hanger is a device used to support tubing string and seal annular space of oil casing. The sealing method of tubing hanger is that the tubing hanger is connected with the tubing, and the tubing is sealed by setting it into the big cross cone of the tubing hanger by gravity. It is easy to operate, fast and safe to change the wellhead. Therefore, it is widely used in medium deep wells and conventional wells.
1 (1 / 2) LP internal thread
If the high pressure wedge gate valve manufacturer prepared for you this article "casing head quality reliable, tubing head four-way function" is helpful for you, I hope you can collect it. If there is any deficiency, I hope you can point out to us, so that we can have more progress.