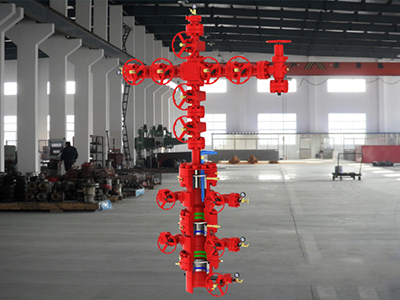 Wellhead equipment: what are the components of the Christmas tree
The main components of Christmas tree are tubing head, tubing hanger, flange and some valves. The main valves are nozzle (throttle valve), production wing valve, wax removal valve, main valve and casing valve;
Tubing head
The tubing head is installed on the upper casing head to support the tubing string gravity and seal the annulus between the tubing and the production casing. Working pressure of tubing head: 1000, 2000, 3000, 5000, 10000, 15000, 20000 psi. The rated temperature is - 18 ° C - 121 ° C. During completion, the rated working pressure of tubing head is generally selected as formation fracture pressure, which matches the rated working pressure of tubing hanger.
Tubing hanger
Tubing hanger is a device that suspends tubing string in the cone seat of tubing head and provides sealing between tubing and cone seat. Generally, there are conical tubing hanger, eccentric tubing hanger with cable crossing hole, self sealing tubing hanger and double tubing hanger. The tubing hanger has a BIW cable crossing, two 1 / 4in NPT hydraulic control pipeline crossings, and a 3 / 8in NPT chemical injection port. The upper port of the tubing hanger is 4-1 / 2 in eue.
Upper flange
The upper flange is located between the tubing head and the tubing spool, and the lower flange has 1inlp pressure test hole and 1inlp injection hole.
tubing spool
The tubing cross is composed of wax removal valve, main valve and production wing valve. It is an integral Christmas tree. The lower part is connected with the upper flange and the upper part is connected with the Christmas tree cap.
Christmas tree cap
The Christmas tree cap is installed on the wax removal valve on the top of the Christmas tree to provide an entrance to the oil pipe space from the longitudinal direction. If steel wire operation, coiled tubing operation, production test, sliding sleeve switch and back pressure valve loading and unloading are carried out, the Christmas tree cap can be removed first. The bottom of Christmas tree cap is API flange or thread.